Siesta Sun | Sarasota Vacation Rental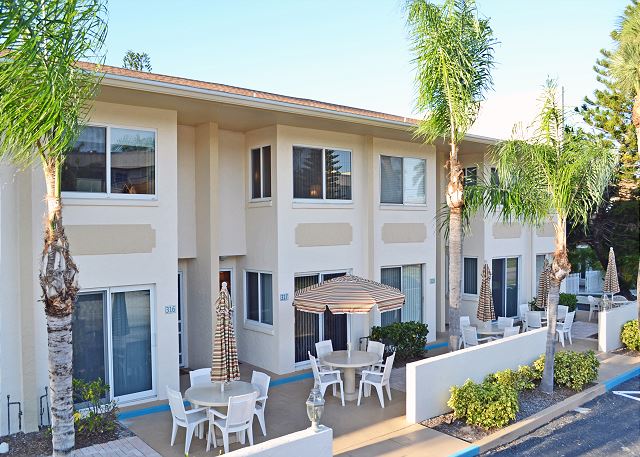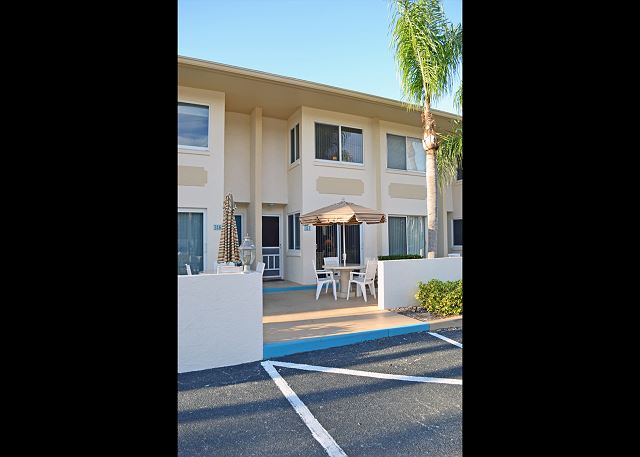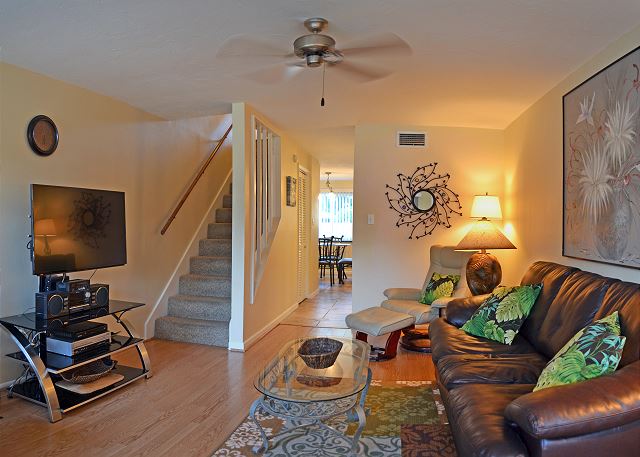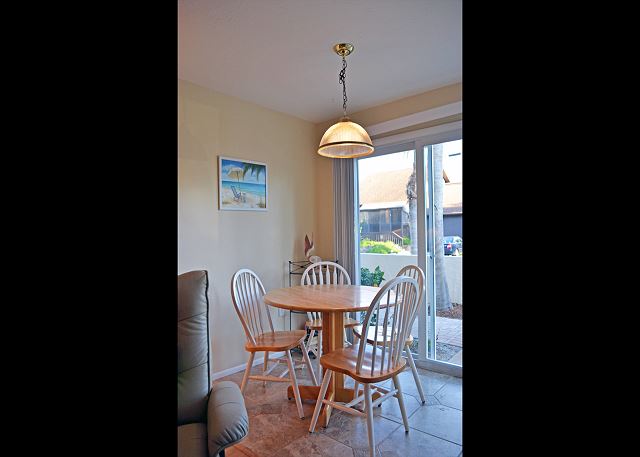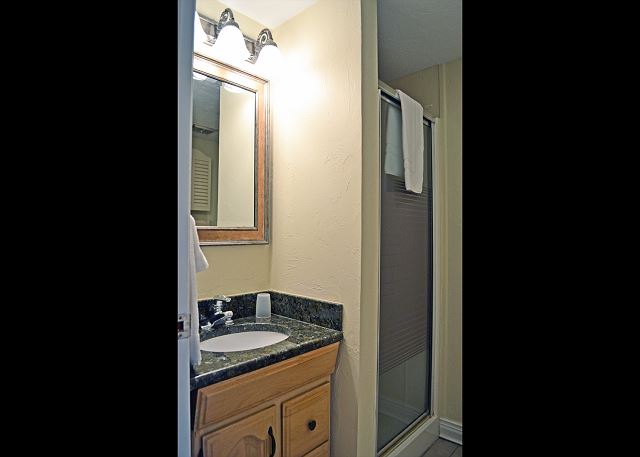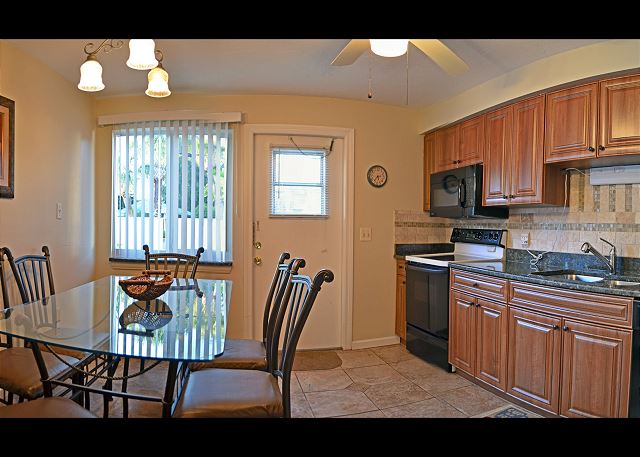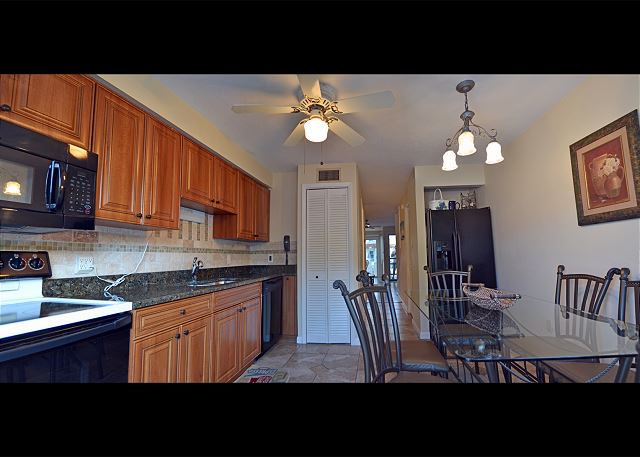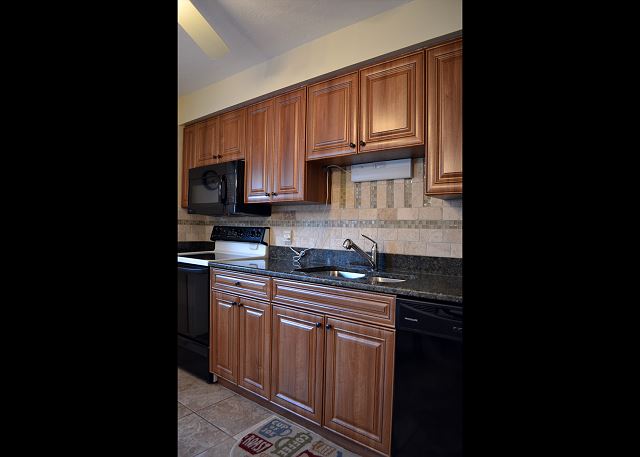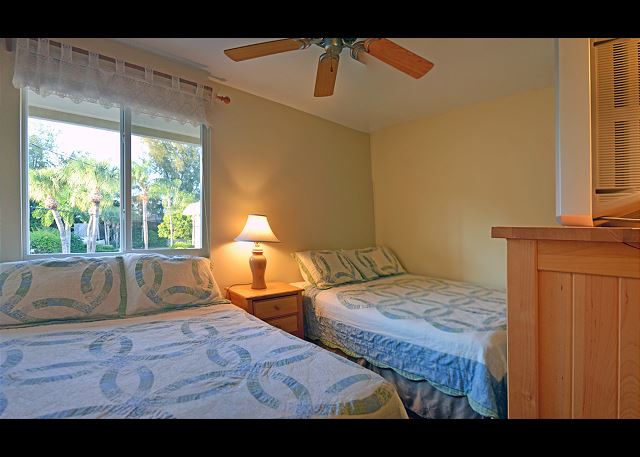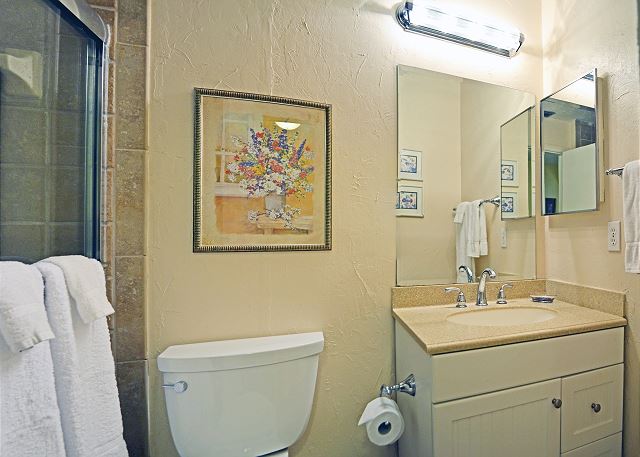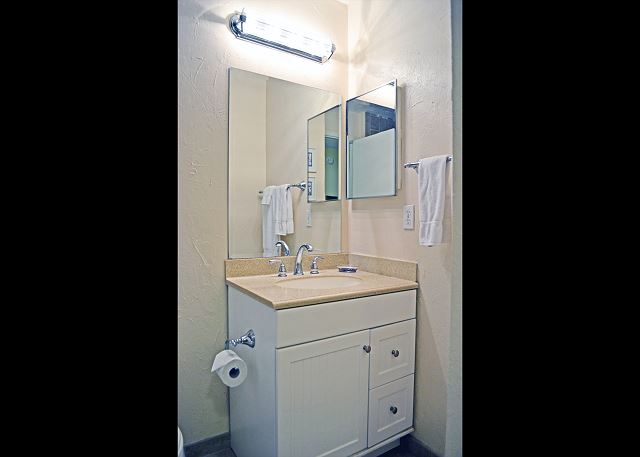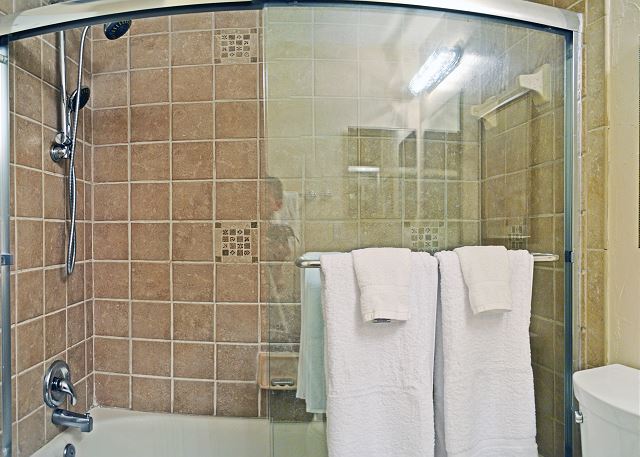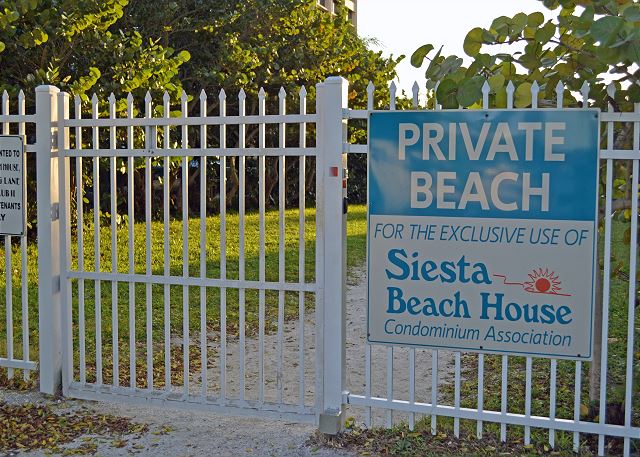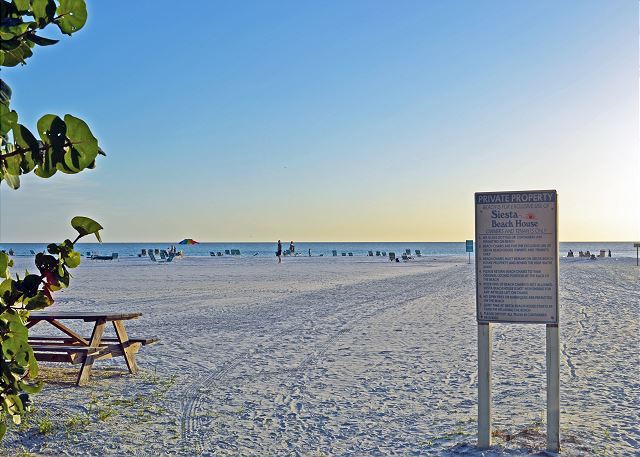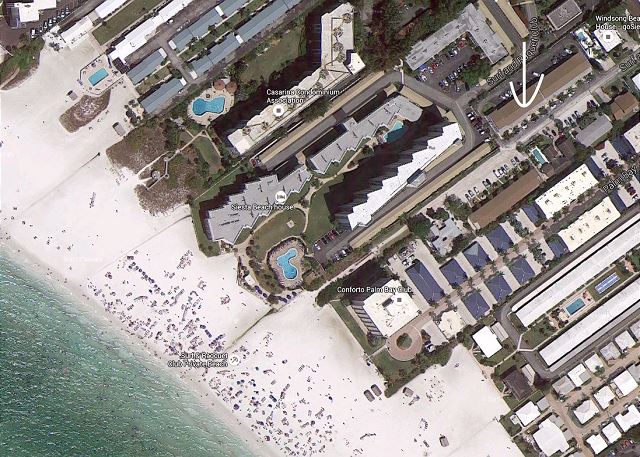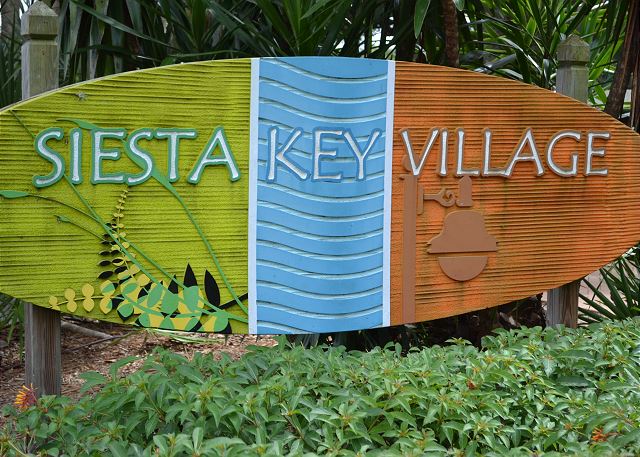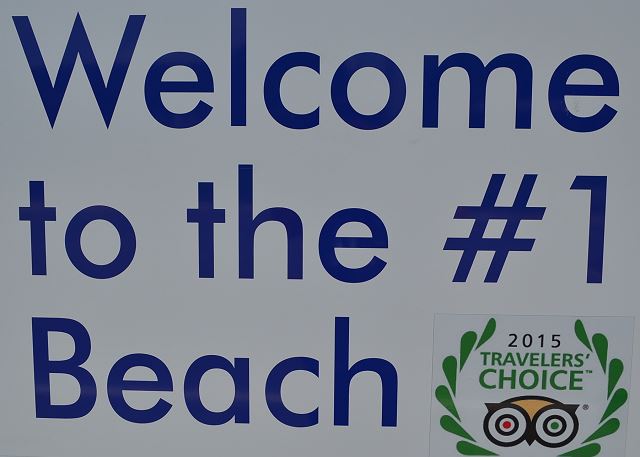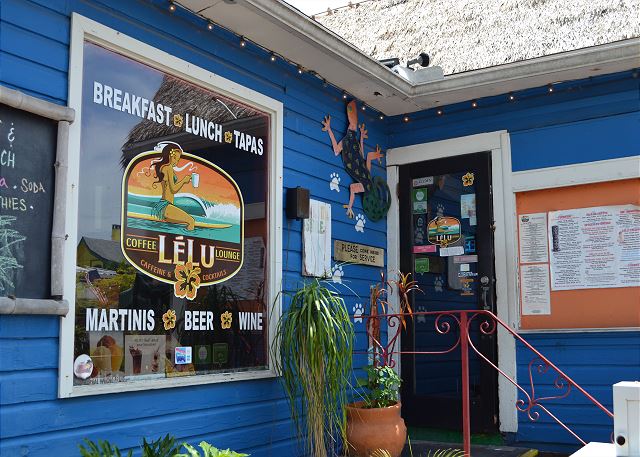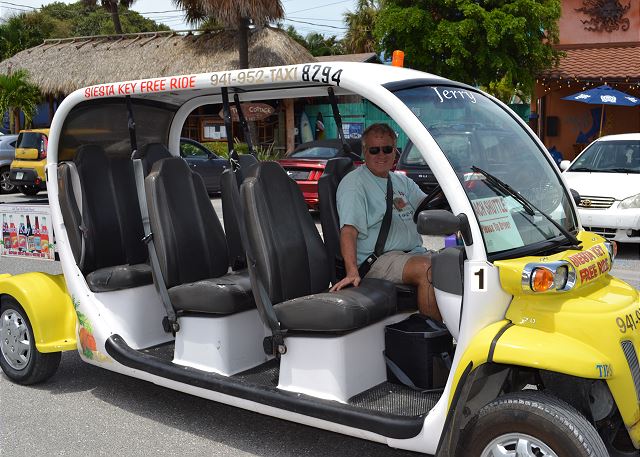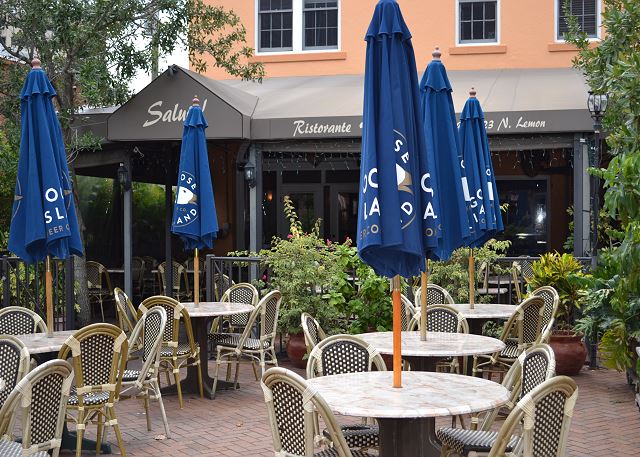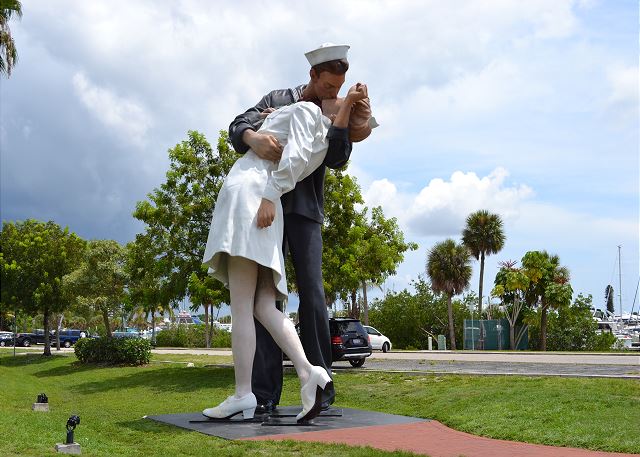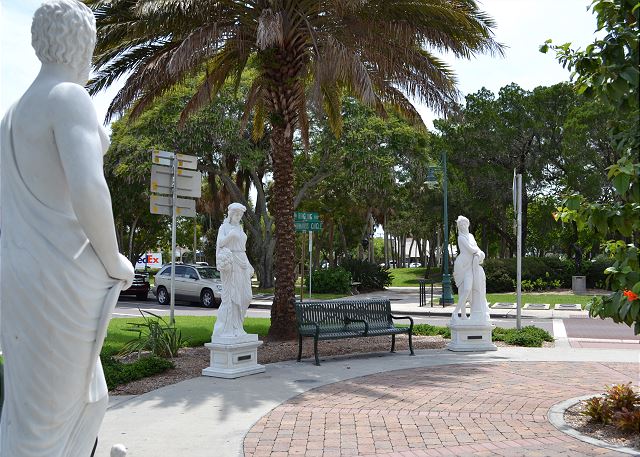 Welcome to this cozy beach town home located less than 2 minutes walking distance from beautiful Siesta Beach. This town home is truly the beach getaway you have been looking for, and gives you private access to Siesta Beach. When you are not at the beach or enjoying the community heated pool, you can relax in the comfortable dining and family room of this roomy home. The property includes a full kitchen, family room, full bathroom, and a nook that opens out to the patio on the first floor. The second floor you will find the two bedrooms and one full bath. The guest bedroom is furnished with 1 Queen and 1 Full-size bed while the master bedroom is furnished with a king-size bed and a spare sink. Both bedrooms are fully furnished and include televisions, closets, and dressers. This townhome is the perfect place to relax when you are not enjoying the sands of Siesta Beach just seconds away.

MINIMUM STAY REQUIREMENTS: 1 week minimum Saturday to Saturday reservation required unless booking less than 30 days in advance 3 night minimum may be accepted. Association application and approval needed prior to reservation acceptance.
| | Nightly | Weekly | Monthly |
| --- | --- | --- | --- |
| August 04 - December 21, 2018 | $109 | $1,015 | $3,522 |
| December 22 - January 04, 2019 | - | $1,365 | - |
| January 05 - January 31, 2019 | - | $903 | - |
| February 01 - April 19, 2019 | - | $1,344 | - |
| April 20 - May 31, 2019 | - | $1,015 | $3,982 |
| June 01 - August 09, 2019 | - | $1,253 | $4,519 |
| August 10 - December 20, 2019 | $109 | $1,015 | $3,522 |
Air Conditioning

Communal Pool

Community Laundry Facility

Hair Dryer

Internet

Iron & Board

Near Beach

No Phone

non smoking only

Parking

pets not allowed

scuba diving or snorkeling

Television

tennis

Stairs
Thank you for entering your review. The review will become available to the system shortly.
Nice place
Rating:
Review Date: 07/30/2018
Place was nice and clean. Was not far from pool or beach. Only problem was lady day bed was not stable and felt like it was going to fall. Otherwise everything else was ok. Did find a very tiny lizzard on the ceiling of the bedroom but was not bothered by it at all.
Manager Response: 08/07/2018
Response from Rent Siesta Key
Thank you for choosing Rent Siesta Key Kimbery! We are glad you enjoyed the beachfront location of this cute and clean development and the convenient proximity to the pool. We are dispatching a technician to the home to make sure the daybed is secure. Please come back and stay with us again sometime soon!
Unit 317
Rating:
Review Date: 06/12/2018
The unit had been updated since the pictures taken for the website. Our only issue was the glass table, we have a toddler and any time she bumped into it the glass would slide.
Manager Response: 06/25/2018
Response from Rent Siesta Key
Thank you for staying with us at Rent Siesta Key Holly! Please come back and see us again soon!
Condo In Paradise
Rating:
Review Date: 06/11/2018
We truly enjoyed our stay at the Siesta Beach Townhouse. We found the property clean and well maintained. Our only complaint was that there should be a washer/dryer in the unit since no one walks around with a pocket full of quarters for the laundry room since there is no change machine in the facility. Also the upstairs bathroom needs a grab bar since the tub is very slippery.
Manager Response: 06/15/2018
Response from Rent Siesta Key
Thank you for staying with us at Rent Siesta Key Karen. We are so glad to hear you enjoyed your stay. Thank you for the suggestions you offered to improve the stay of future guests. We will forward these observations to the owner. Please come back and see us again soon!
Great vacation
Rating:
Review Date: 06/04/2018
Manager Response: 06/05/2018
Response from Rent Siesta Key
Thank you for staying with us at Rent Siesta Key, Mladen. We hope you enjoyed the great location of this home on Siesta Beach. Please come back and see us again soon!
Great place for Families
Rating:
Review Date: 03/06/2018
Our overall experience was joyful and I would definitely recommend this property. It was very comfortable for a party of 6, however I would not recommend more that 6 people. The only suggestion I have is a few more amenities provided like kitchen towels and sponges. The beach was amazing.
siesta key
Rating:
Review Date: 02/05/2018
old florida rental----but clean.
we had a problem with 1st floor shower, but management fixed it promptly.
Very pleasant
Rating:
Review Date: 01/31/2018
The location is perfect and the house has all you need except for the washer and dryer. That would be such a great improvement. We would love to return next year
Excellent location
Rating:
Review Date: 12/16/2017
I loved the location of the condo, the beach is what sold me and the condo was adequate for my family. The carpets could of been in better shape and I miss having a bathroom in the master bedroom. Overall I enjoyed my vacation and would return to same location for the beach.
Townhouse
Rating:
Review Date: 10/30/2017
Great property, could be updates but a great value. Everything worked great and was clean.
Great vacation
Rating:
Review Date: 08/16/2017
I had a wonderful stay with my family the place is a great place very family oriented and I wish I could have stayed longer
Great vacation
Rating:
Review Date: 08/07/2017
2017 Vacation
Rating:
Review Date: 06/26/2017
Great location which suited our families needs.
Great location
Rating:
Review Date: 06/19/2017
Overall it was a very good experience. Great location. About 2 miles to the village. Very close to the beach. Beach chairs are provided. There are toys and what not too so no need to bring anything. The kitchen was well stocked with everything you need. The sofa bed wasn't too comfortable but, are there any that are? We were very pleased with the place. Will definitely book again.
Loved it
Rating:
Review Date: 06/12/2017
We have stayed in this same place a few times now. The new couch is a great addition. The location is prime, we used the free rides to go around town. The locks to the chairs stick and can be difficult but that is somewhat expected since they are exposed to the sun sand and wind. We will continue to stay here every year. The freezer in the unit did not make ice nor keep our food frozen. When we requested maintenance to look at it they were prompt and professional. The manager was also very nice.
Great time
Rating:
Review Date: 05/31/2017
Condo was in nice condition. Property was kept up nice by maintenance. Very good distance from beach; under a minute walk. Pool was nice and clean. Would recommend
Piece of paradise
Rating:
Review Date: 04/03/2017
This property was as described and was just perfect for our family consisting of 7 people and 3 generations. Location was perfect. Loved the private beach and chairs. Beach towels and lots of sand toys were available, so no need to bring. Friendly and helpful neighbors. Little kids loved the pool when they tired of the sand. I have never seen a more beautiful beach than Siesta Key. Only negative was that we never received sheets and pillowcases for the sleeper sofa. May want to check with management before arrival to ensure they have been added. We booked again for next year and we NEVER go back to anywhere! Also recommend Walt's Fish Market, Jungle Gardens and a trip to Clearwater Aquarium on the way in or out of Tampa to see Winter the dolphin!
Spring Break in Siesta Key
Rating:
Review Date: 03/28/2017
Enjoyed our stay at the town house. Very comfortable, quiet and relaxing. Fit 6 of us comfortably. Close to the beach. Beautiful beaches and sunsets. Walking distance, although close to 2 miles, to restaurants and shops. Free taxis available, just didn't take advantage. Enjoyed the walks. Busy traffic with spring break. Kitchen very well stocked with utensils, dishes and small appliances. No laundry in unit, however small laundromat on site in complex. Very convenient and well maintained. Only complaint is that the carpet on the stairs was dirty as well as many of the small rugs in bathrooms and kitchens. Could use cleaning or replacement. Would likely book again in future. :-)
Clean,quiet accommodation, short walk to beautiful, private beach
Rating:
Review Date: 03/14/2017
Perfect place for our family with 4 kids. Clean and quiet, very short walk to private beach & pool. Beautiful white sandy beach,great for walking & collecting shells, perfect for R&R. Would love to go back!
Very nice!
Rating:
Review Date: 03/14/2017
This place was very nice and the location was even nicer. Just a couple minor things to repair, bathtub stopper & blinds (2 blades fell off), so it can be even better. It was very comfortable and the beach and weather were great! We are already booked for next year.
Shankle's at Siesta Key 2017
Rating:
Review Date: 01/23/2017
This is not the first time we have stayed at Siesta Beach house but we were in a different unit. The experience was great again this year. The weather was absolutely perfect. The unit was big enough to not feel confined & was very comfortable. The location of the unit is great in that we were only 2 miles for Siesta Key village & close to the beach. The ability to be outside at the table on the patio, at the pool, or walking on the beach or sidewalk was the best! Thank you!
Tolle Lokation in Superlage
Rating:
Review Date: 01/07/2017
Super Lage in 2 Minuten zum Privatstrand mit "Puderzuckersand". Das Haus ist zweckmäßig eingerichtet und hat alles was man benötigt. Super ist, dass man nichts mitbringen muss - Handtücher, Badetücher, Strandliegen, sehr gute Küchenausstattung und Bettzeug vorhanden.
Great family vacation rental
Rating:
Review Date: 10/17/2016
This was our first time staying in a rental property and we had an amazing experience! This property has everything you could possibly think you would need on vacation. And if for some reason it didn't there are stores within 10 minutes from you. We had 7 ppl staying on the property (4 adult and 3 children) there was more than enough room for us all. The beach and pool are only a few minute walk away. They have beach chairs accessible which was great. It is about a 5 minute drive to downtown siesta key where you can walk around to all the shops & get food. The property was very clean. We had an amazing experience &I highly recommend the property and area to anyone
Siesta sun
Rating:
Review Date: 07/04/2016
Great rental only steps from the beach.We had everything we needed in the townhouse very clean.Would stay there again.
Manager Response: 07/15/2016
Response from Rent Siesta Key
Thank you for staying at this beachside town home and the great review.
Your request has been sent. We look forward to meeting all your vacation needs!