Holiday House - 4 | Siesta Key Vacation Rental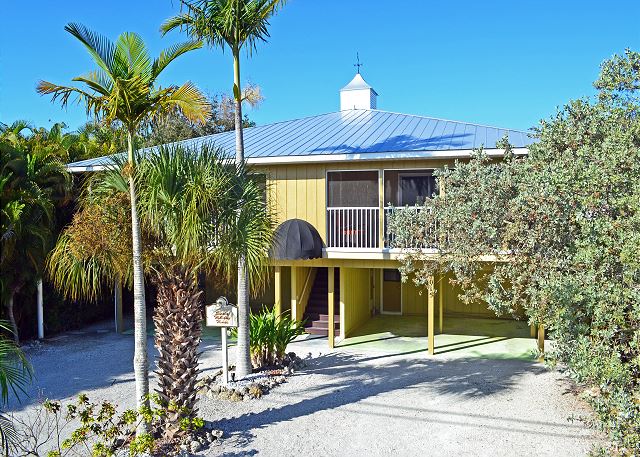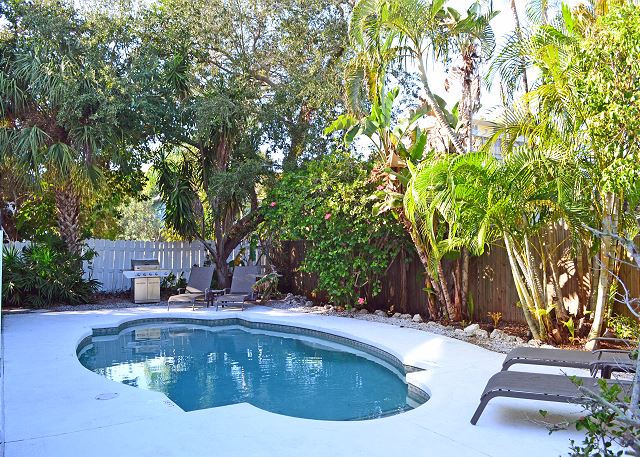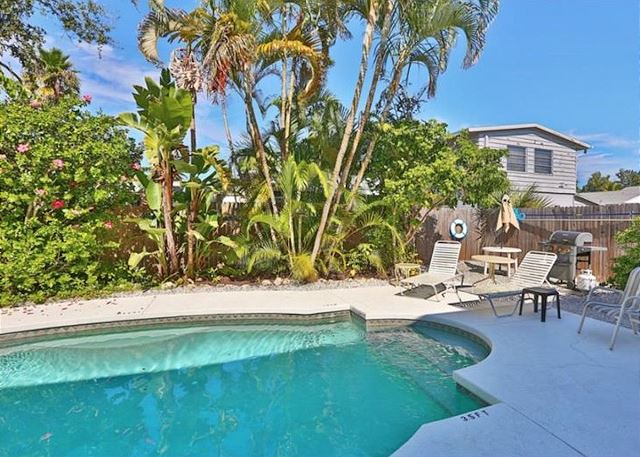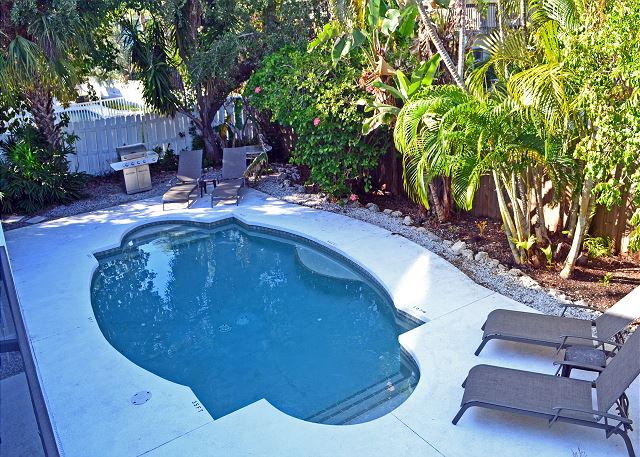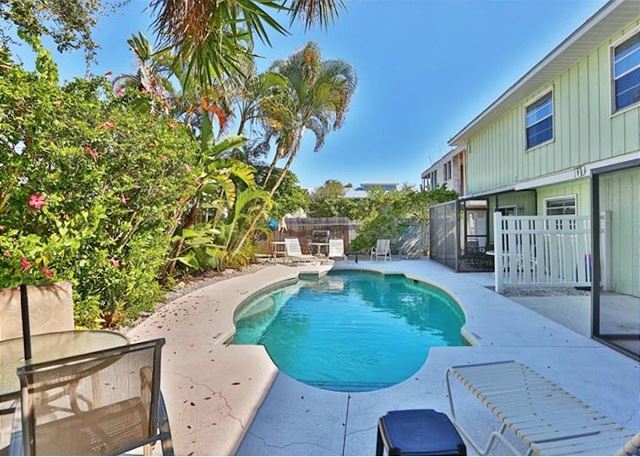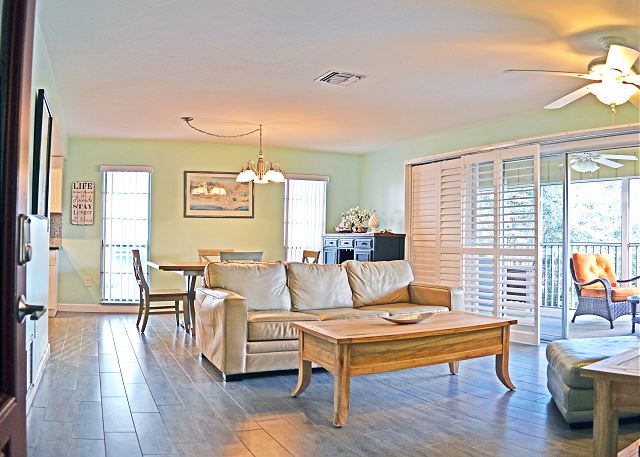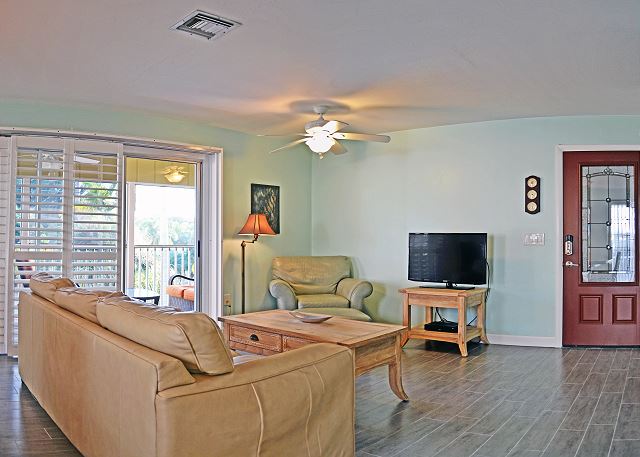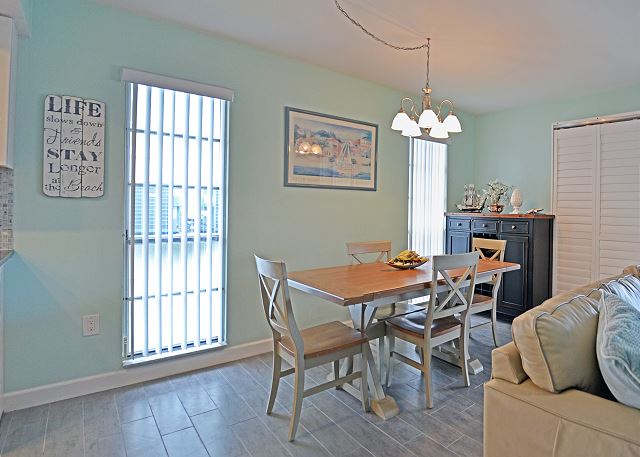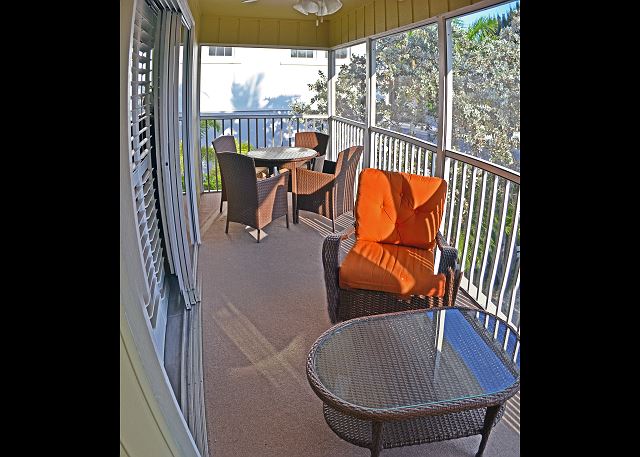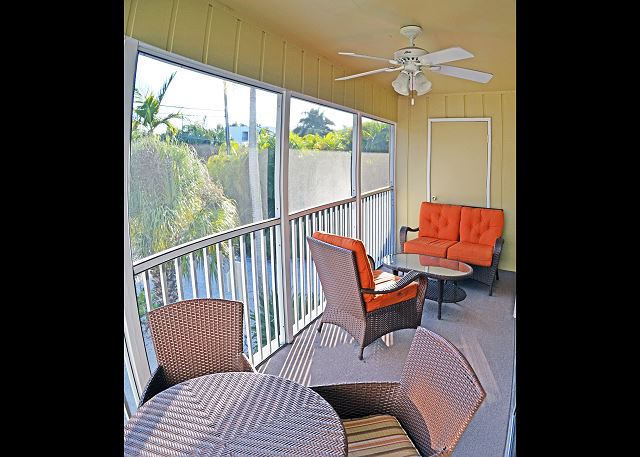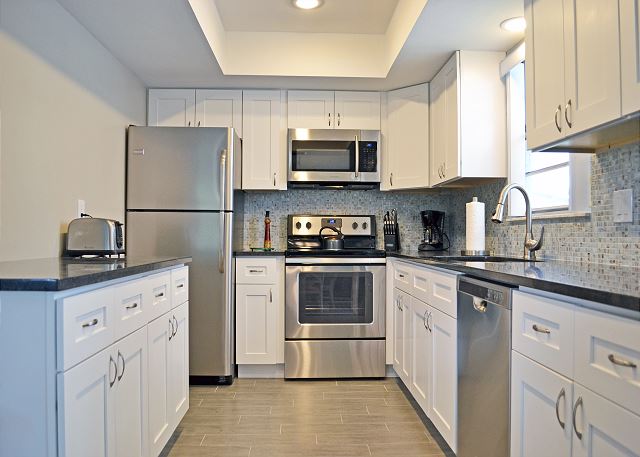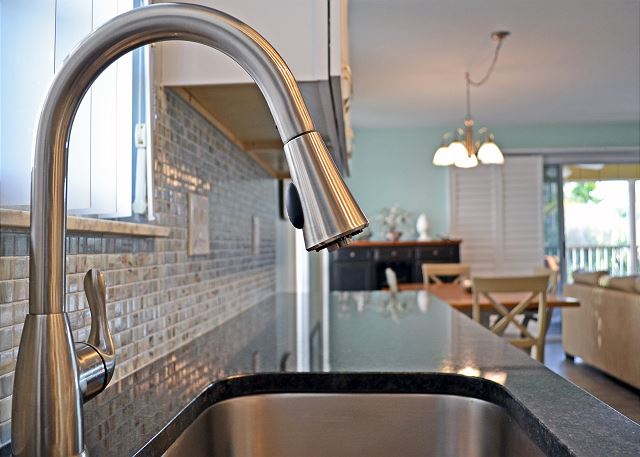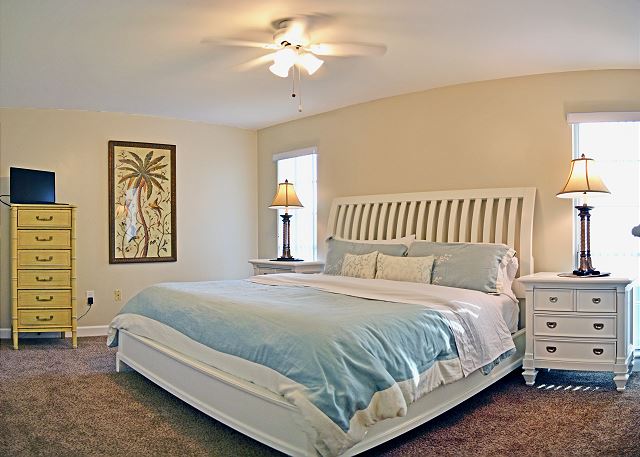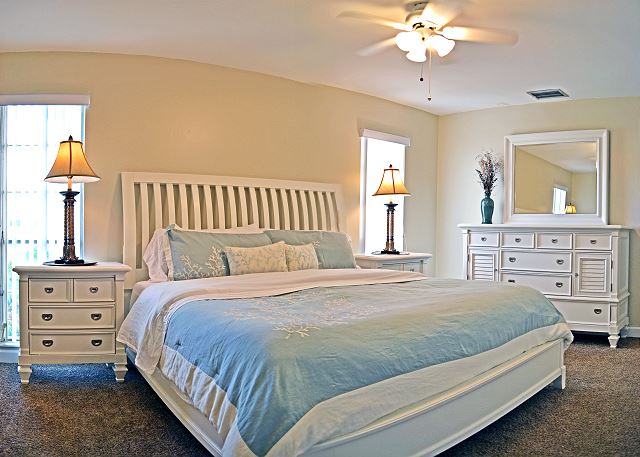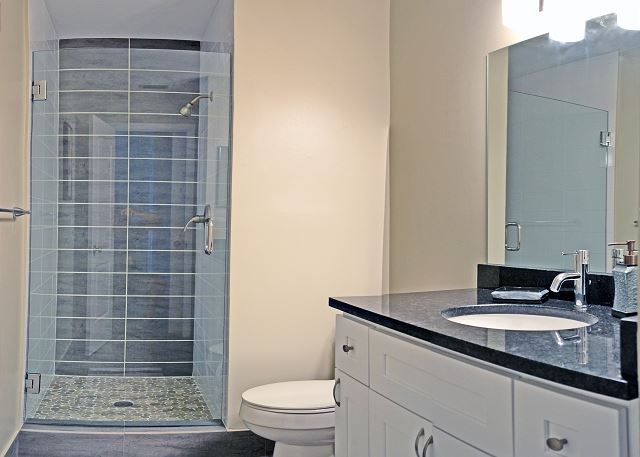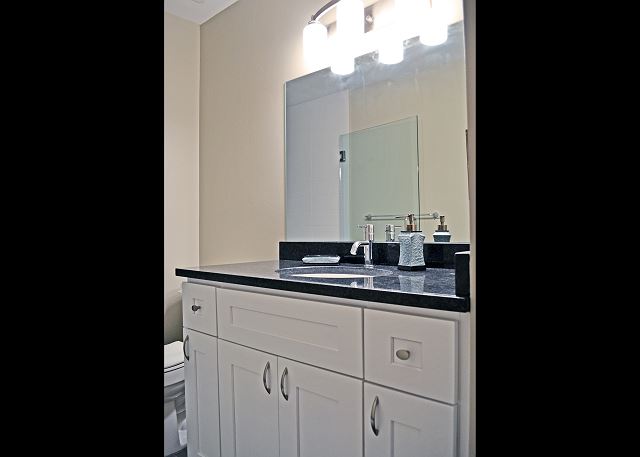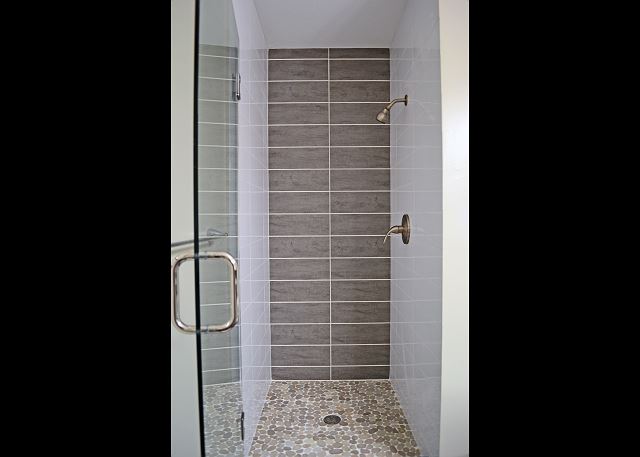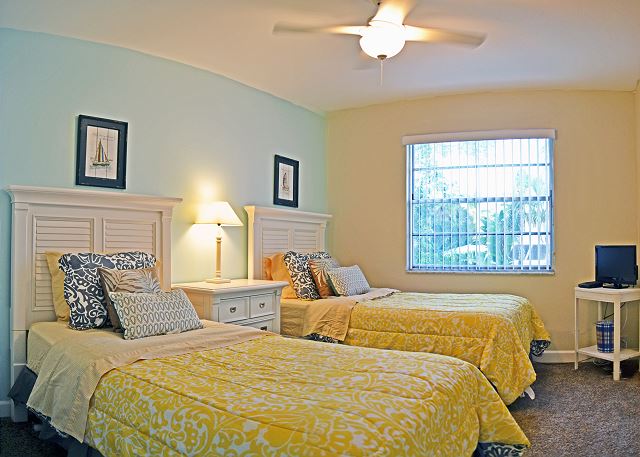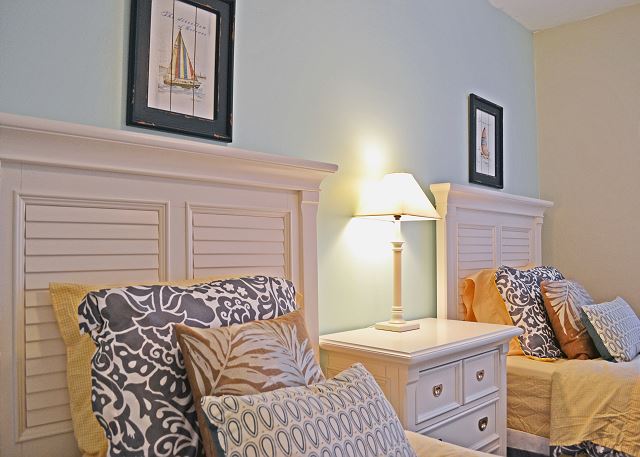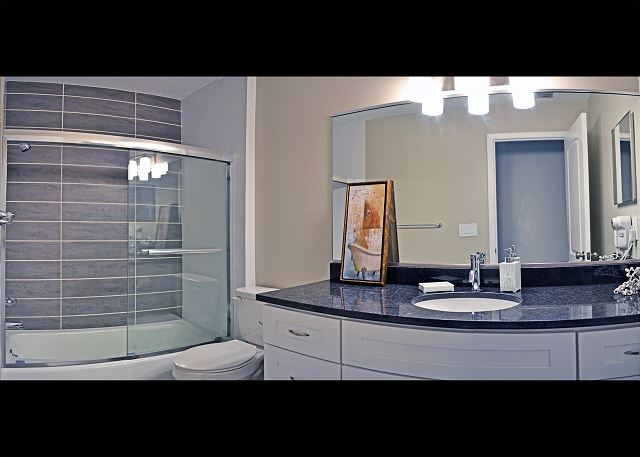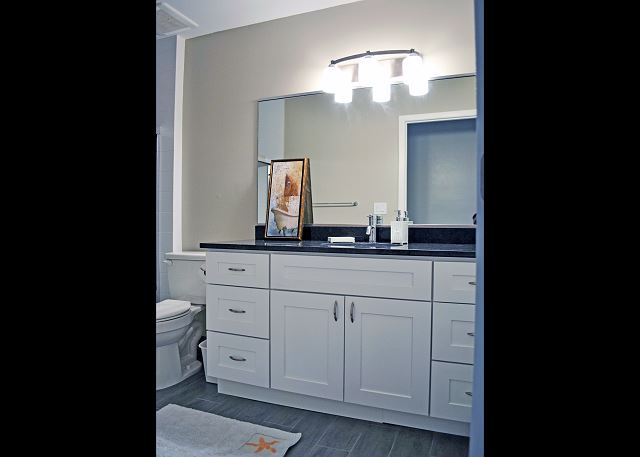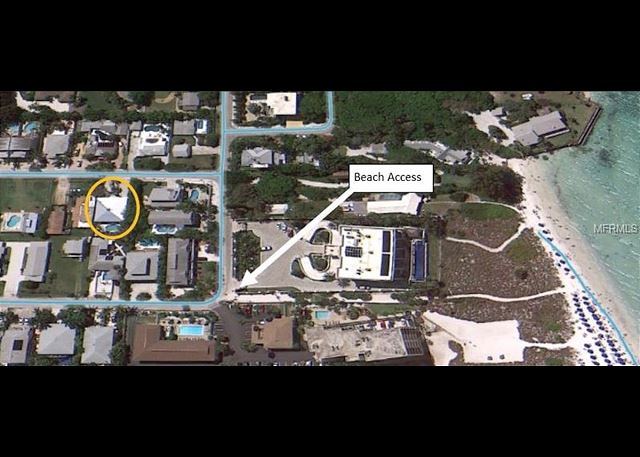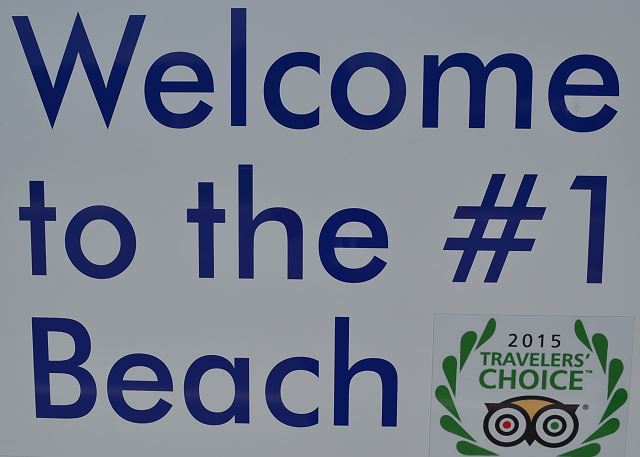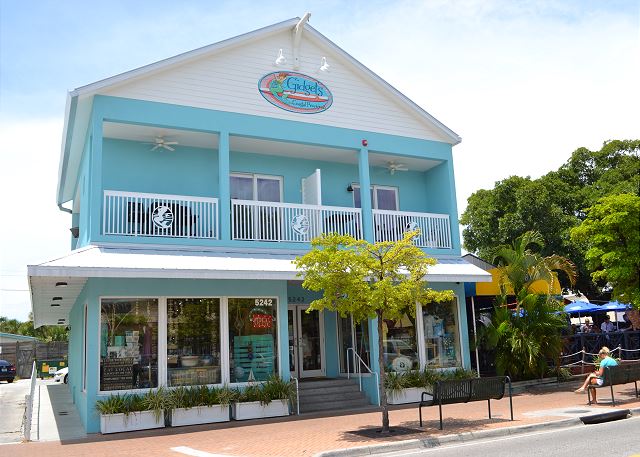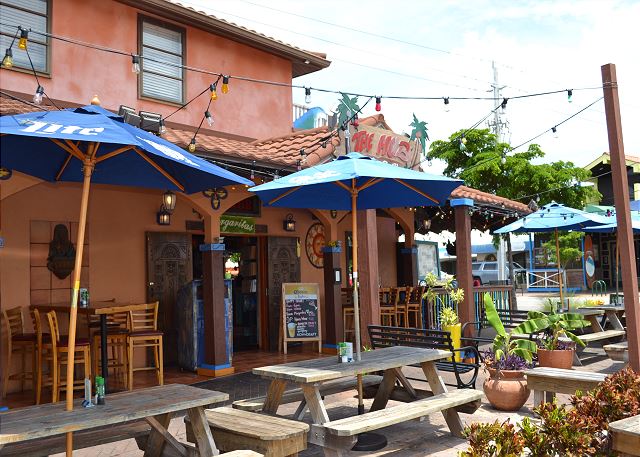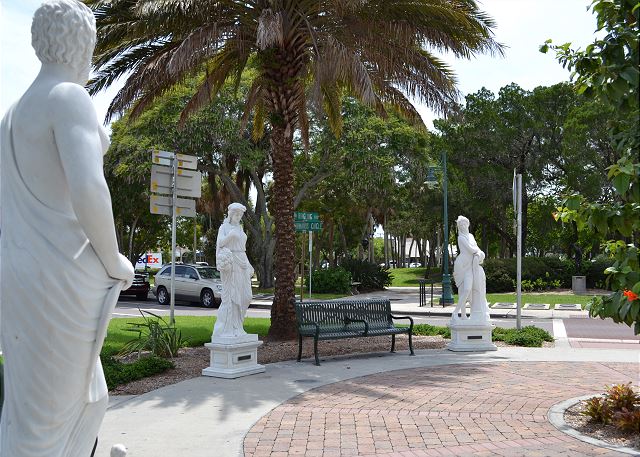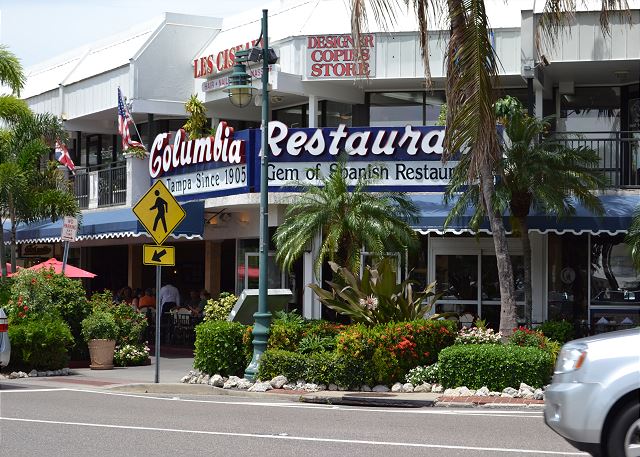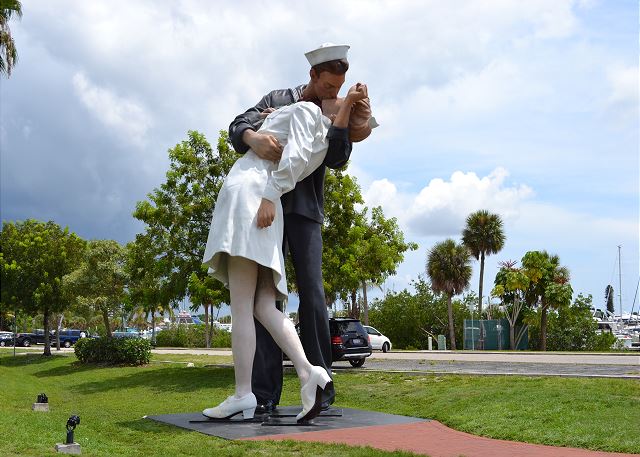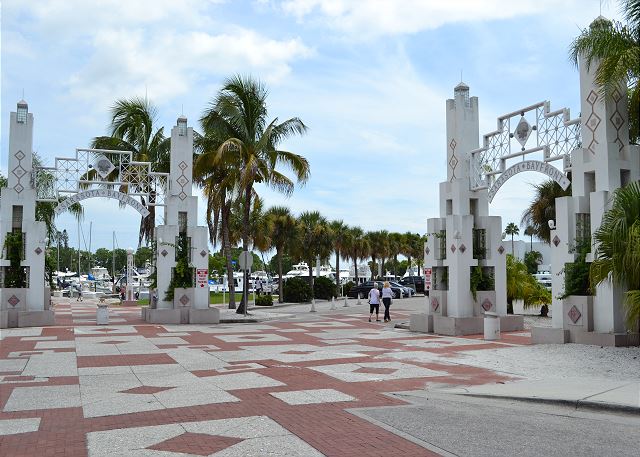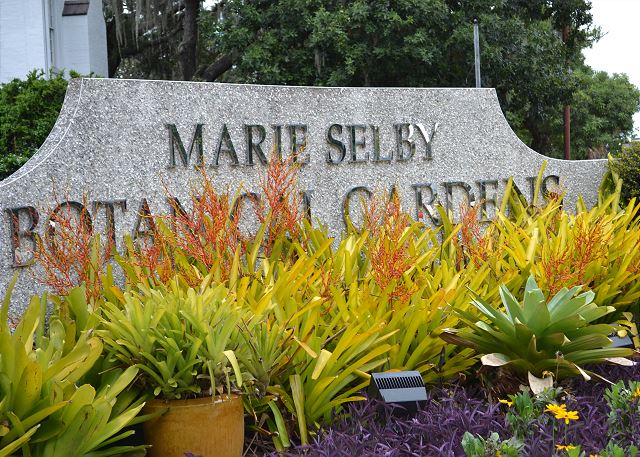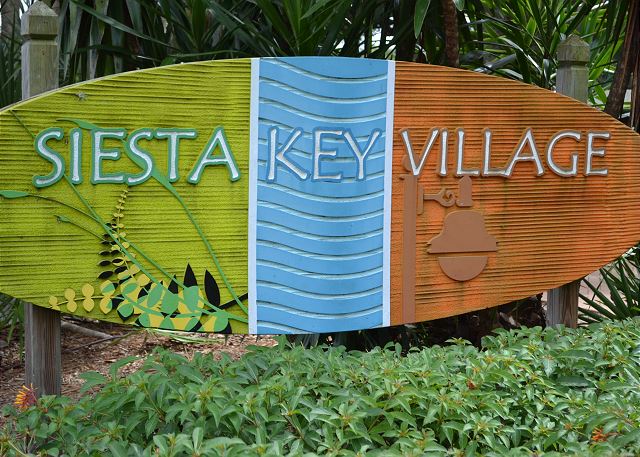 Come and enjoy this two bedroom two bathroom condo style vacation rental located just a short walk to Siesta Key beach. The main living area has an open concept with living room and dining area in the first great room when you enter the unit. There is a full kitchen with breakfast bar opening off to the side of the dining room. The living room is equipped with a flat screen TV and has large glass sliding doors opening out to the screened balcony. The master bedroom is furnished with a king-size bed and TV and has an ensuite bathroom. The guest bedroom is furnished with two twin-size beds and TV. The backyard of this property has a large heated pool, plenty of sun bathing spots, and a BBQ area. Free high speed WiFi is available throughout the property including the pool area.

Minimum Reservation Requirement: 1 week minimum Saturday to Saturday during peak season.
| | Nightly | Weekly | Monthly |
| --- | --- | --- | --- |
| February 16 - April 26, 2019 | - | $1,603 | - |
| April 27 - May 31, 2019 | $129 | $903 | $3,870 |
| June 01 - August 09, 2019 | $179 | $1,253 | $5,370 |
| August 10 - December 20, 2019 | $109 | $763 | $3,270 |
| December 21 - January 03, 2020 | - | $1,603 | - |
| January 04 - January 31, 2020 | $179 | $1,253 | - |
| February 01 - April 17, 2020 | - | $1,603 | - |
Air Conditioning

Clothes Dryer

Communal Pool

Hair Dryer

Internet

Iron & Board

Near Beach

non smoking only

Parking

pets not allowed

scuba diving or snorkeling

Television

tennis

Washing Machine

Stairs
Thank you for entering your review. The review will become available to the system shortly.
Siesta Key 2019 - Holiday House 4
Rating:
Review Date: 02/05/2019
Everything was as promised - nice location. The rental was clean and very nice. A few things could be improved on. The frying pans and baking pans both need replacing - everything sticks to the frying pans no matter how much Pam or cooking oil we used. Also the knives are in dire need of sharpening. A few of the coffee cups have small chips out of them - which were like that when we arrived. Besides those things everything was pretty much up to date. We also enjoyed the pool which was kept maintened every week as promised.
Family Vacation
Rating:
Review Date: 11/20/2018
I loved the location and how easy check-in was!
Manager Response: 12/13/2018
Response from Rent Siesta Key
Nancy we are so glad you appreciated the convenience of the guest management application! Please come back and see us again soon!
The best time
Rating:
Review Date: 10/31/2018
We had the best time! Pictures DO NOT do it justice. Seriously, the decor, furniture and pool is beautiful. A 5 minute walk to the beach is true to its word, but it felt so much faster than 5 minutes! A really quiet neighborhood, beach chairs provided. I can't wait to come back
Manager Response: 11/13/2018
Response from Rent Siesta Key
Rebecca we are so glad to hear you enjoyed this super cute and clean home so close to beach access 13. It is about a 2 minute walk, however we try not to oversell, in case a guest walks slower than our staff who timed the walk. Please come see us again soon!
WONDERFUL VACATION
Rating:
Review Date: 10/22/2018
IT WAS FANTASTIC!! I LOVED EVERYTHING. MY FIRST VACATION TO FLORIDA.
Manager Response: 11/06/2018
Response from Rent Siesta Key
George we are so glad you enjoyed your stay in this great home so close to the beach. Thank you for taking the time to leave a review. Come see us again soon!
Siesta Keys Holiday House 4
Rating:
Review Date: 10/13/2018
This rental property was fantastic. It was the perfect size for 5 of us. The location was very close to the beach. (Much closer than anticipated) all the amenities were accurate. We spent most of our time at the beach but did relax at the pool one afternoon. The pool was fantastic, some reviews complained of dirty pool but it only had a few leaves floating which is absolutely normal with the beautiful privacy trees and foliage that surround the pool. There are two nice gas grills available on the pool deck along with tables and chairs for outdoor dining. The screened porch was so enjoyable in mornings for coffe and evenings for cocktails and talking with friends. The rental was spotless and beautifully decorated. It had everything needed to prepare our own meals in the kitchen. The beds were comfortable and sheets were good quality and soft. Towels and beach towels were furnished as well as beach chairs. We did not use washer and dryer but was available. There is a free shuttle that will take you from one side of the island to the other. The management was very friendly and helpful and answered any questions. We will contact this rental company again for our next visit to Siesta Keys. We absolutely did not have one negative comment about this vacation experience and already planning out next visit.
Manager Response: 10/29/2018
Response from Rent Siesta Key
Mary you are so sweet. Thank you for leaving such a thorough review for future guests to know what a great home this is! We'll see you again soon!
Quaint condo with a short walk to the beach!
Rating:
Review Date: 08/21/2018
We celebrated a 40th birthday here with 3 other girls and have a wonderful time. The condo was cute, clean and close to EVERYTHING! I would definitely recommend this property to anyone looking for a cute place to stay in Siesta!
Manager Response: 09/04/2018
Response from Rent Siesta Key
Thank you for the great review Leila. We are so glad to hear you ladies enjoyed yourselves. Please come back soon!
Holiday House unit 4
Rating:
Review Date: 07/16/2018
It was very nice, however we bought a beach umbrella and left it at the condo. We flew in from Ohio, so we couldn't really take it with us. There needs to be enough Beach equipment to share between all of the renters.
Manager Response: 08/03/2018
Response from Rent Siesta Key
Danielle it was a pleasure to host your stay!
great stay
Rating:
Review Date: 06/02/2018
very enjoyable stay, until the night before we left...out checkout was 10:00 am, two women showed up at late the night before. Their paperwork showed they were to check in the day before we left. Double booked. thankfully, they managed to stay with a friend nearby for the night.
Manager Response: 06/05/2018
Response from Rent Siesta Key
Thank you for staying with us, and for taking the time to leave a review for the benefit of future guests. Dean we are sorry you were inconvenienced. We were able to determine the other guest cancelled their reservation after 24 hours back in January 2018 and simply forgot, despite never receiving check-in instructions for the home. or contacting our office.
March 2018 Stay
Rating:
Review Date: 04/23/2018
we loves Siesta Key and our stay in this great condo. Not pretentious, nut with all we needed for a very comfortable stay. It was great having beach chairs handy, too. This beach is AWESOME! Any request we had got immediate responses. We'll be back!
Holiday # 4
Rating:
Review Date: 04/23/2018
Place was clean and comfortable
Good location
Had everything you needed
Cottage living
Rating:
Review Date: 03/26/2018
This was our first time in Siesta Key and it proved to be the right choice! Everything in the condo was in good working order and the kitchen was equipped with everything we needed. Loved that white, sandy beach!
Girls Getaway
Rating:
Review Date: 03/12/2018
The rental was very clean and we thoroughly enjoyed our stay. The beach was a short walk. We would have like more towels, especially hand towels, but otherwise a very enjoyable week!
Convenient spot
Rating:
Review Date: 03/05/2018
The location is great - off the main road and very close to the beach access. The bedrooms were roomy and had lots of storage. The kitchen and baths have been remodeled with lots of counterspace and good appliances. A washer and dryer were available off the carport. With a few minor upgrades in furnishings and maintenance - better cookware, more undamaged dishes, more linens, towels and placemats, oiled sliding glass doors - it would be a great rental.
Enjoyed our stay
Rating:
Review Date: 02/19/2018
We enjoyed our stay very much. The location was great. The property was very close to the beach and in walking distance to restaurants. The property itself was nice but had some maintanance issues and needed more furniture such as lamps. I strongly suggest bringing your own bed pillows since the ones they had were very dirty. We bought new ones while there. We went in February so be ready for the crowds!
Beach House
Rating:
Review Date: 02/05/2018
great place, clean love the furnishing and the lanai - able to walk to beautiful beach - nice quite area. Can walk to a few restaurants - Capt Curt and Claytons both good. Pool area was really not that great - could use some sprucing up. Stairs into unit VERY steep -
Superb
Rating:
Review Date: 12/22/2017
The condo was a great location and very roomy and quiet. There was more than enough room and the amentities were great to have. It was close enough to the action but far enough away to get away and have peace and quiet. Our family would stay there again in a flash.
Beach getaway - you'll want to stay longer!
Rating:
Review Date: 12/21/2017
Great location on quiet street, a 2 block walk to the beach. My wife and I stayed for 4 days with our two teenage daughters and everyone appreciated the modern furnishings and decor. Very clean and orderly. Easy check-in and checkout and the mobile app contained all the info needed for a great stay.
Siesta Key Getaway
Rating:
Review Date: 11/26/2017
The rental experience was seamless and very easy online. The property was so close to the beach, literally 2 min walk. The condo was very comfortable and situated on a side street which made it easily accessible and not heavy traffic. However, since the area was all rentals, it may be a different situation during high season. All in all, very comfortable and would love to stay their again.
Holiday House 4
Rating:
Review Date: 11/14/2017
We had a wonderful time! The condo was very clean and conveniently located. The kitchen was well stocked for us to cook a few meals. Parking was easy and the other people staying in the building were very nice.
Great stay in Siesta Key!
Rating:
Review Date: 09/28/2017
Holiday House 4 was a great condo for my group of 4 ladies looking for relaxation and fun in the sun. The condo was located in a quiet neighborhood in with a short walk to the beach.The condo was nicely updated and the price was reasonable. However, the best feature of this condo was the manager, Richard. He went above and beyond what I have experienced with previous vacation rentals. Before our arrival he answered all of our questions even though Florida was in the midst of a hurricane. He was also willing to help us when we were missing items and with some repairs. The only thing I would change is a couple of things in the condo were worn out (beach chairs and coffee cups) which were very minor issues and easy to fix. Nice condo, great price, and good location! Thank you!
Girls trip
Rating:
Review Date: 08/21/2017
This place was everything and more. It was nice that they provided beach equipment so people traveling who did not drive did not have to buy chairs, umbrellas, coolers, etc.
The pool was fabulous, I know other reviews said it wasn't clean, which there was debris in it, but it is understandable being that there are trees surrounding it.
House was clean and perfect for our stay. Can not wait to come back again next year!
Awesome Place‼️
Rating:
Review Date: 05/23/2017
Great Family hotel. This hotel was totally surprising to us. The owners have spent hugely on a total rehab of this facility. Everything is there.
Great Place Great People
Rating:
Review Date: 12/22/2016
The Propery was as described. Everything was recently renovated. We stayed in early December 2016. The staff at the management company were very accommodating. There was construction going on around us (new buildings and renovations) and it got loud early in the morning and sometimes into the later hours of the evening so inquire about the status of that construction if you plan to spend much per of the day in the condo. The beach access is super close, we traveled with a 2 and 4 year olds and had no problem walking there and back safely. Outdoor shower, laundry room with new appliances a plus! Pool in the back was heated so it was perfect for the kids. I will definitely go back and stay there.
Peaceful, comfortable and clean!
Rating:
Review Date: 11/09/2016
This quiet little condo complex is at the end of a residential street in Siesta Key. Walking distance to the local grocery store and restaurants. A stone's throw to the entrance of the beach. A great condo with updated kitchen and bathrooms. Large bedrooms. Comfortable outside porch. Pool was clean too. Would definitely rent there again .




We had a wonderful time on Siesta Key!
Rating:
Review Date: 10/29/2016
Great location, great house, great time! The house was very spacious and only steps from the beach. We would like to come back next year.
Excellent rental vacation
Rating:
Review Date: 10/12/2016
Beautiful apartment. Apartment had everything we needed for our stay. Publix and other stores near by. Siesta Key-Beautiful beach. Beach access close to apartment. We were able to use beach chairs, umbrellas and accessories for our kids to play at the beach. We enjoyed using the lovely pool. Can't wait to return.
Siesta Key getaway
Rating:
Review Date: 08/27/2016
The condo was very nice and tastefully decorated. The beds were very comfortable as well. The pull out couch (not comfortable at all). Unfortunately, we had rain the entire time we stayed here. We never got to go swimming in either the pool or the beach. We got rained in and enjoyed putting the puzzles together. We found a very nice restaurant called Turtles Restaurant on Sarasota Bay and it is very reasonably priced and on the water. We thought the food and service was excellent!
Perfektes ruhiges Appartment
Rating:
Review Date: 08/09/2016
Die Wohnung 4 liegt im 1. Stock und ist mit allem ausgestattet, was benötigt wird. Die Wohnung ist modern und sehr nett eingerichtet und hat eine zentral gesteuerte sehr sehr leise Klimaanlage! Die zwei Schlafzimmer und 2 Badezimmer (eins mit Dusche und eins mit Badewanne) sind super. Man fühlt sich gleich wie zu Hause. Die Lage ist perfekt, kurzer Weg zum Strand, ruhig gelegen, Außendusche,Pool, Waschmaschine und Beach Equipment! Die Farbe das Hauses stimmt nicht mit den Bildern überein. Das Haus ist jetzt beige. Ansonsten ist alles wie abgebildet! Über einen Wäscheständer hätten wir uns noch gefreut.
Great Place to Stay!
Rating:
Review Date: 05/30/2016
Awesome rental, so close to the beach. Comfortable two bedroom, kitchen stocked with all the necessities, bathrooms nice and clean. We would rent it again. The only complaint is that the hide-away bed was not very comfortable.
May 2016
Rating:
Review Date: 05/29/2016
Wouldn't recommend anyone definitely stay again
Rating:
Review Date: 05/04/2016
We love that place it was very clean and nice when we showed up all the neighbors were pretty good except a couple that started fighting in the middle of the night the place was awesome clean beautiful just a short walk to the beach the only thing that I can suggest would be a full length mirror and I didn't know where all the beach chairs and stuff were until the very last day we would definitely stay here again
Manager Response: 05/05/2016
Response from Rent Siesta Key
Thank you for your stay at Holiday House - 4. All the information regarding the unit i.e. where beach equipment is located etc... can be found in the check-in information sent out prior to your stay. We also have customer service lines available 7 days a week from 9am-5pm who can assist with this type of inquiry. If you downloaded the mobile app you can also locate the information regarding the location of the beach equipment as well as submit an inquiry thorough the app directly to the property manager for assistance.
Your request has been sent. We look forward to meeting all your vacation needs!